The 7th Photonic Integrated Circuits International Conference Exceeds Expectations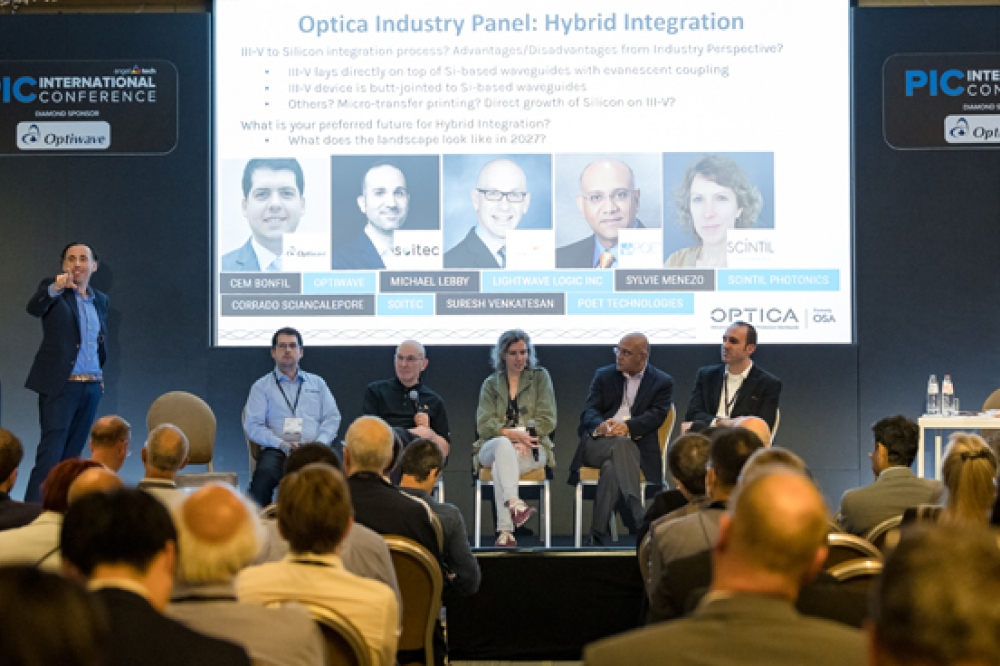 Co-Conference Chairs, Dr Michael Lebby and Dr. David Cheskis reflect on the 7th PIC International Conference that not only was well attended, but is now recognized as the core conference for PICs globally.
We have just finished the 7th annual PIC International Conference, and again like in 2021, it not only surpassed everybody's expectations, but thrilled us with live presentations, live audience, live panels, live Q&A, live networking, and a completely full exhibit. The technology updates and progress were again exciting and generated lots of audience questions for the speakers. The whole value chain for the PIC industry was represented that ranged from wafers to epitaxial growth, devices, packaging, modules and systems, to social media. It is now clear that PIC International is the conference to attend if your interest is Photonic Integrated Circuits (PICs) not only in optical networking and internet, but other market verticals such as automotive, sensing, medical, instruments etc.

We again filled all of our seats, and believe it or not, we had standing only in the majority of live presentation sessions! There was much cross pollination between parallel sessions from CS International and Sensor Solutions International.
This year, there were over 700 delegates attending two days of highly condensed sessions on photonic integrated circuits (PICs) that focused not only on innovative technology, but how PICs could alleviate major headaches, issues and opportunities that optical networks, datacentres, telecommunications systems, automotive applications see today. Many talks focused on how PICs could be implemented into novel and innovative applications to move the industry forward, and keep the industry moving forward such as Automotive LIDAR, sensing, displays, healthcare, etc. As in 2021, one of the biggest drivers for PICs are fiber optic communications for datacentre interconnects. A number of global giants and 'hot hot hot' start-ups with incredible technology platforms conveyed huge opportunities for PIC innovative solutions for their businesses that addressed high speed, low power consumption, innovative packaging (via co-packaged solutions), reliability, and cost effectiveness.
There were also talks that explored PIC based technologies outside of fiber optics and optical networking, and those areas included healthcare, bio, sensing, and LIDAR for automotive applications. One of the most promising segments for PICs is the use of PICs in the automotive market, and this was forecasted to grow very quickly over the next decade.
The conference discussed in detail incumbent PIC technologies such as InP and Silicon Photonics, as well as exciting new and emerging technology platforms such as electro-optic polymers, thin-film lithium niobate, and dielectric technologies. Hybrid PICs was used to denote the mixing of various technology platforms to improve the overall performance of PICs. Examples were the use of electro-optic polymers onto silicon photonics, and as well as dielectric materials for integrated Photonic solutions on silicon wafers from foundries.
The incredible growth of silicon photonics as a base platform continues with an increase in popularity and acceptance as a new incumbent technology. Indium phosphide as one of the incumbents was demonstrated to show higher density PICs that are expected to impact the 5G markets, andjust like 2021, there were exciting updates of PIC in novel 3D sensing and LIDAR applications.
The conference also discussed both datacentre and telecommunications opportunities for PICs with forecasts for new architectures, standards, technologies and cost expectations. The latest results in the PIC field were also presented and showed a significant performance upgrade towards transceivers at 800Gbps and some speakers spoke of 1600Gbps, 3200Gbps, 6400Gbps, and beyond. Some results presented included the use of electro-optic polymers that generated speeds of over 100GHz bandwidth.
There were a number of exciting sessions, where one session discussed improvements in PIC infrastructure for designing and manufacturing robust and reliable PICs using software tools for modelling, simulation, and production. This was supported by many PIC talks that addressed PDKs and other metrics needed to quickly grow PIC markets.
This year, new and innovative talks discussed how PICs based technologies can enable new products that are more miniature, low power, and high performance, which is becoming especially important for hand-held battery powered diagnosis and health monitoring products.
PIC International to return to Brussels – bigger and better than ever!

The leading global integrated photonics conference and exhibition will once again bring together key players from across the value chain for two-days of strategic technical sessions, dynamic talks and unrivalled networking opportunities.

Join us face-to-face on 18-19 April 2023
View the agenda.
3 for the price of 1. Register your place and gain complementary access to TWO FURTHER industry leading conferences: CS International and Power Electronics International.
Email info@picinternational.net or call +44 (0)24 7671 8970 for more details.