Commercialization accelerates for POET Technologies' platform technology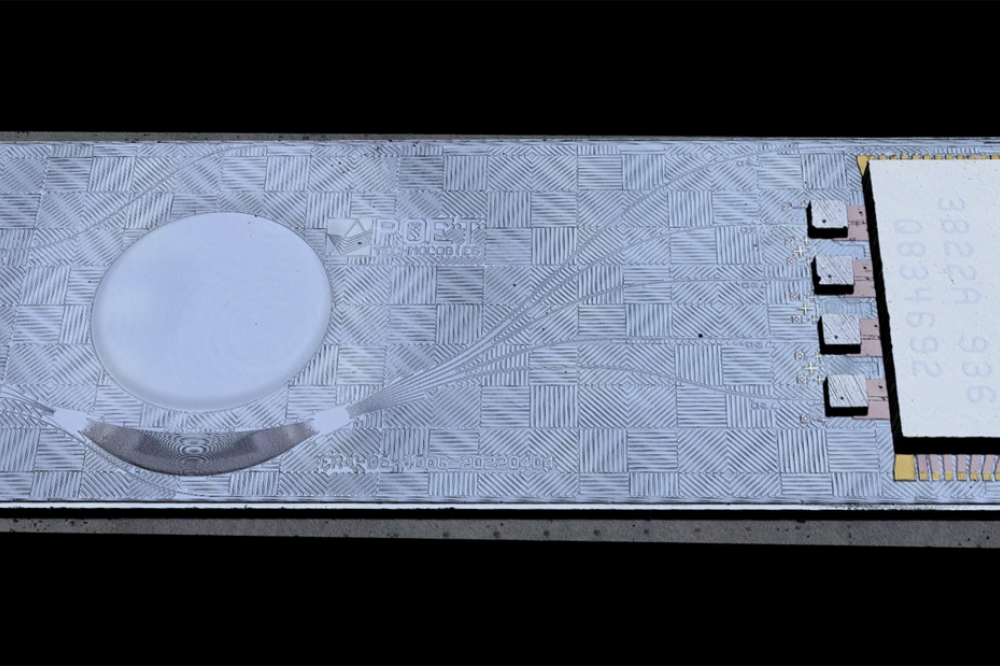 POET Technologies has spent five years striving to deliver a game-changing platform technology to the market. Now, the POET Optical Interposer™ is gaining adoption as ADVA and others utilize it to improve their own product offerings. Here's why they are convinced of POET's advantages.
By POET Technologies
At POET Technologies, we have been a company of "-ization". We had a goal for the "legitimization" of photonics in the semiconductor industry and built a hybrid-integration solution to deliver on the "optimization" of products built with the proprietary POET Optical Interposer. We have touted "miniaturization" of photonic solutions using chip-scale, wafer-level assembly as critical to gaining industry attention and the "semiconductorization" of photonics as a description of what our seamless integration of photonics and electronics achieves.
Now, we bring the most exciting suffix of all to the top line of our story: commercialization.
The O-Band LightBar™ by POET Technologies features high-power CW lasers for co-packaged optics and AI-ML GPUs. Celestial AI is POET's lead customer for AI products.
Momentum has steadily grown for our products, which are currently being sampled by customers in data centers, telecommunications, and AI. They're attracted to the POET Optical Interposer-based solutions that eliminate costly use of discrete components and labor-intensive assembly, alignment, and testing methods. Those earliest adopters of the technology include:
- ADVA: The European network equipment provider (recently merged with AdTran, Inc.) has collaborated with POET on an innovative set of optical engines to extend the life of legacy data center infrastructure while enabling simple seamless migration to next generation speeds.
- LuxshareTech: POET's 400G and 800G optical engines will help this global datacom company offer its end customers high-speed transceiver modules.
- Celestial AI: The high-powered, well-funded Silicon Valley startup is scheduled to has received alpha samples of POET's C-band Light Engines for high-speed chip-to-chip communications in the first quarter of 2023. Purchase orders are expected later in the year.
- FiberTop Technology: The transceiver company plans to leap over its competition with the help of POET's 100G and 200G optical engines in its pluggable transceivers.
What these companies — and others whose names remain shrouded by confidentiality agreements — have realized is that the POET Optical Interposer provides market differentiation in four key areas and that gives its suite of products advantages over alternative technologies.
1. Ease of Integration
The capital costs of replacing old equipment to accommodate new technology is always a challenge for companies. Whenever a solution emerges that can extend the life of existing infrastructure, executives are sure to consider the opportunity. That's what happened more than two years ago when POET and ADVA began discussing how to get the most out of 100G ports (which are currently prolific in data centers) and how best to transition the industry to 400G.
On January 18 this year, POET and ADVA announced a strategic collaboration for optical engines that represent a life extension for a significant number of legacy 100G ports. POET has developed a multi-engine 100G CWDM4 and 100G LR4 optical engine that ADVA will use in its pluggable transceiver solution that packs the functionality of four independent 100Gbit/s interfaces into a single 400G transceiver in a QSFP-DD housing.
ADVA's MicroMuxTM Quattro has individual 100G ports in a QSFP-DD package that plugs into a 400G port. Along with fitting into standard sockets, it fans out 4x100GbE, maximizing the use of existing hardware in data centers. The solution creates compatibility to the legacy 100G links without the need for retrofits in network design or the use of additional hardware.
Also, the MicroMuxTM Quattro becomes the industry's smallest pluggable transceiver to pack the functionality of four individual 100G LR4 or CWDM4 optical engines into a single module.
"ADVA's MicroMux™ Quattro brings the industry's smallest aggregation technology all the way to the network core. Engineered as a standard-compliant plug in a QSFP-DD form factor, it fits into a 400Gbit/s socket, enabling it to meet legacy needs. This innovative pluggable solution packs the functionality of four independent 100Gbit/s interfaces or two independent 200Gbit/s interfaces into a single QSFP-DD housing," said Ross Saunders, GM of Optical Engines, ADVA, in a press release. "POET's unique design of its optical engines with hybrid integration of optical chips and monolithically integrated MUX and DMUX enables us to deliver industry-leading products in a small form factor that is scalable to high volume production as well as to higher data rates, such as 1.6Tbit/s and 3.2Tbit/s, thereby enabling much higher bandwidth in a pluggable form factor."
POET Technologies has shipped samples of its 1.6Tbps receive optical engine.
It's the most public example of the ease with which POET's products integrate with current systems and equipment, though much of the excitement building interposer-based optical engines has to do with inherently lower capital and assembly costs — especially at a time when many companies are coming off of a difficult two years.
2. Scalability
Among POET's hallmarks is the ability to scale to high volume while avoiding high capital and operating expenses associated with conventional assembly of transceiver modules. By procuring optical engines from POET, our customers benefit from a steep reduction in the bill of materials, which results in a dramatic drop in module assembly costs. The company estimates its technology lowers industry assembly costs by as much as 70% from current solutions, by reducing the number of components and eliminating active alignments.
The smaller form factor (6mm x 9mm for an optical engine) and wafer-level manufacturing is critical to its scalability – increasing volume while driving down size, cost, and energy consumption. Even more importantly, chip-scale wafer-level packaging is considered the only means available to meet the scalability demands of the future.
3. Versatility
The POET Optical Interposer design allows engineers to layer components on top of each other and to achieve unique architecture to solve problems at chip level. For example, ADVA asked POET's team to tweak the design of the engines in order to maximize the routing within the module. POET pulled wire bonds (which are typically on the side of an engine) to the front to accommodate other components in the tight space. Such clever adjustments were done to deliver a customized solution.
On top of that, POET uses known-good components that have been selected for their appropriateness to specific applications. Last year, the company announced the addition to its product designs of high-speed directly modulated lasers (DMLs) from Lumentum. It also uses continuous-wave (CW) lasers from Broadcom, adding to the best-of-breed components in its designs.
Produced solely with CMOS-compatible wafer fabrication methods, the POET Optical Interposer uses a standard high-resistivity silicon substrate to enable high-speed communications among all the components on a single chip. A wide variety of components (e.g., lasers, detectors, modulators, photodiodes, drivers, etc.) are flip-chipped and bonded onto the optical interposer, creating an "optical engine" on a single chip. That simplicity allows engineers to imagine how to develop more innovations and to do it with a platform technology created to be used with diverse material systems and for generations of products to come.